Snake Creek Gap Time Trial Series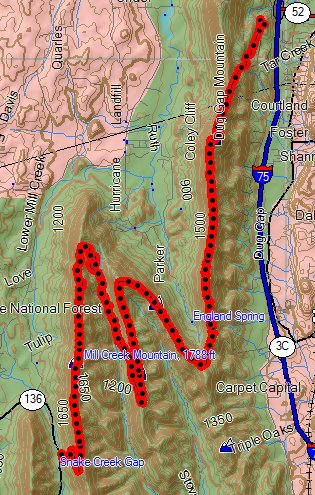 I've known for a while that some FM:Race people were signed up to do the Snake Creek Gap Time Trial Series but I didn't decide until late last night that I would race too... today! I signed up online last night, figured out carpooling, and got about 5 hours of sleep before my first mountain bike race of 2009 (and my first mountain bike race since 24 Hours of Adrenalin at Conyers in 2005 which was my first mountain bike race ever). Last year, FM:Race cleaned up most of the Under-35 17 mile category in this series with 9 out of the top 11 placings (2008 results) so Christopher, Aaron, Eric N, and Emily did the 34 mile route this year while Bob, Eric B, and I took over the 17 mile.
The forecast called for rain, but it was really more like being inside a cloud the whole time. You can see what this was like here. Official start time for the 14milers was 10am and my spot in line ended up being at about 10:20am. I was right behind Bob but passed him pretty quickly on the first climb thanks to my granny gear because he was riding the course on a single-speed. Over the next few hours, I passed a good number of people and got passed by a few people. As the minutes ticked by, things got more and more spread out and by the second half of the course, I almost never saw anyone in front of me or behind me. This was nice when I was cursing out loud while walking up steep hills after bashing my shins on crazy piles of rocks that seemed to make up the majority of some miles. My legs don't look as damaged as I think they should!
This course, part of the Pinhoti trail (Snake Creek Gap to Dug Gap), was by far the most technical mountain biking I've ever done: miles and miles of rock gardens, super sketchy descents covered in wet leaves and mud, and steep long uphills that many say are unrideable. This was definitely the most walking I've ever done mountain biking anywhere and the rocks, descents, and climbs all outdid the previous personal "most" for me: Porcupine Rim in Moab, Utah. For both the conditions (riding inside a gross muddy cloud) and the terrain, this trail is not one that I would do for fun because it's mostly painful with few rewards. On a nice sunny and clear 60F day, the view would be nice, but still might not be worth it!
My official time was 2:40:56 which is a bit longer than FM:Race was doing last year, but everyone agreed that the conditions slowed things down a lot. We'll see how I stack up against my category when they put all the results online. Even though I looked alright after finishing, according to my heart rate monitor I averaged 90% intensity on this and "only" managed to average 6.3MPH with that. Ouch! Regardless, I'm pretty happy with how I did, and it's a good way to start off a year of riding. My muscles are feeling pretty good and I think it's mostly the added difficulty that the wetness gave the technical sections (the entire course) that slowed me down. I'll miss the February stage of this series due to work travel, but should be able to do the March one and go significantly faster if it's not muddy-cloudy.
Here's what the hills were like:

And here are some more pictures.
EDIT: Results are in, I was 4th out of 12 and would have been 3rd if I shaved 1 minute off my time!
EDIT2: The pictures are starting to show up online too. Here is me in one of the many rock gardens. (Thankfully they didn't post the picture of me falling ~20ft back or so!). More details also now up at http://fastermustache.org/node/6040.
EDIT3: more me pics
comments powered by

Disqus